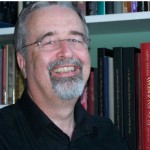 Paul is a freelance musicologist and author interested in classical music and its history, with wide experience of introducing performances, talking to societies and associations, and teaching at undergraduate and postgraduate levels in higher education. He has been involved in a number of broadcasts on radio and television and as a curator his specialism was promoting interest in original musical manuscripts, documents and artefacts, and the fascinating insights they can offer music lovers.
Paul is chiefly interested in music composed from 1800 to the present day, and has written about the music of  Bartok, Berlioz,  Britten, Busoni, Hans Rott and Richard Strauss. He is currently preparing a catalogue of the music of Gustav Mahler.

This website by Paul Banks is licensed under a Creative Commons Attribution-NonCommercial-ShareAlike 4.0 International License.